Watershed Assessment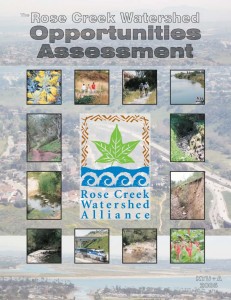 The development of the Rose Creek Watershed Opportunities Assessment followed a three step process. The process began in 2004 with the review of existing conditions. This was conducted by analyzing the creek's water quality, conducted field surveys of wildlife habitat, reviewing previous biological studies, and analyzing the presence of exotic invasive plants.  In addition, recreation specialists analyzed public access points and an archaeological survey assessed the significance and sensitivity of cultural resources. Public safety issues such as fire prevention, landslides, and crime were also reviewed. The results were included in the Existing Conditions Report.
The project team then presented the Existing Conditions Report to the public through a series of workshops. The used the report and the public comments and recommendations to develop the draft Rose Creek Watershed Opportunities Assessment. The Rose Creek Watershed Alliance also developed a list of goals, which were addressed in the Assessment. The final result is a list of recommendations of actions that can be taken to protect and enhance the watershed for the benefit of current and future visitors.
The report was prepared by KTU+A  , in association with Merkel & Associates , Susan Hector Consulting and the San Diego Natural History Museum . The San Diego City Council accepted the plan on October 21, 2008. Since then, members of the Alliance have been working together working together to identify sources of funds to carry out the various recommendations of the Assessment.

View a summary of the Assessment:
Rose Creek Watershed Opportunities Assessment At A Glance
Reports