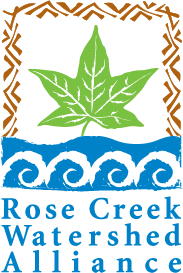 The Rose Creek Watershed Alliance (Alliance) is a group of organizations formed to help plan the future of the 23,427-acre Rose Creek Watershed in San Diego, California. Current watershed residents and visitors benefit from the efforts of many who have worked over the past decades to preserve portions of the watershed and make them available for the public. City-owned Marian Bear Memorial Park and Rose Canyon Open Space Park are two beautiful results of past preservation efforts.
The Alliance was established in 2005 to help create a plan to improve the watershed. After almost five years of consideration and public input, the San Diego City Council accepted the plan, titled the Rose Creek Watershed Opportunities Assessment  , on October 21, 2008. The Alliance has been working together since then to help implement its recommendations.
Ann Van Leer manages a variety of projects throughout the watershed. Please email her at info@rosecreekwatershed.org to get involved.

Rose Creek Watershed Alliance Members
Convener: San Diego Earthworks
Nobel Recreation Council
Friends of Stevenson Canyon
Nobel Recreation Council
Rose Canyon Recreation Council
Partners:
City of San Diego Parks and Recreation Department